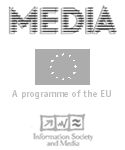 Developing Interactive Narrative Content Seminar 2007: Speakers/Consultants
| Frank Boyd | Greg Childs | Christophe Erbes | Chris Hales | Sibylle Kurz | Raimo Lang | Peter Olaf Looms | Mark Stephen Meados | Mark Ollila | Michel Rüger | Richard Rouse III | Nathan Shedroff | Lee Sheldon | Inga von Staden | Teut Weidemann | Ingo Wolf |
---
Frank Boyd
Frank Boyd is a specialist in creativity and innovation especially in the field of new media.

He has been Director of the European Multimedia Labs, an occasional series of development workshops, since 1995. The Labs have supported the creation of new for some of the most talented new media creatives in Europe. Frank is now working with X Media Lab in Sydney to develop a programme in Australia.

He worked for BBC's Learning and Innovation Division for 5 years to January 2004 as Director of Creative Development where he managed a series of workshops for producers in and new media to create new ideas for TV, radio, broadband and interactive television.

Previously he had set up the Arts Technology Centre, the first independent centre in the UK dedicated to creative applications of digital technology. Artec's programmes included production and research as well as vocational training and educational projects.

Frank was a founder member of the BAFTA Interactive Entertainment Awards and organiser of the UK's Digital Media Alliance (DMA). He has been a special adviser on new media to both the European Commission and the Council of Europe. He is currently advising the British Government's Department of Trade and Industry on building the interactive skills base in the UK.
---
---
Greg Childs
Greg has worked in Children's media for over 20 years. At the BBC, he directed and produced Play School, and a variety of factual and comedy programmes, including the long-running Record Breakers. In 1998 Greg led a team spearheading the BBC drive into digital, launching the first Childrens' BBC websites and a range of innovative cross-media experiments, including all the programming for young people on the BBC's first digital television channels, BBC CHOICE and BBC KNOWLEDGE. In 2000 he joined the Children's commissioning team to create a popular pre-school service on BBC Choice, and plan the launch of the children's channels CBBC and CBeebies. Greg's creative R&D unit - Future TV investigated children's changing media habits in the light of new technology. It also led CBBC's drive into interactive television, and was the focus for innovation within the department. Greg now runs his own company, Childseye, offering strategic and project-based consultancy on the effective use of integrated and interactive media for the younger audience. He has worked on the launch teams of Teachers' TV and the CITV Channel in the UK, has created interactive propositions for Disney Television Animation and Zenith Entertainment and has worked for the Dept for Education and Skills as a digital communications consultant. Greg is the Executive Producer of the UK's premier children's media practitioners' Conference – Showcomotion and is Head of Studies for the German Akademie fuer Kindermedien.
---
---
Christophe Erbes
Christophe Erbes was born in 1963 in Paris and studied mathematics, telecommunications science and economics.
After some scientific research in Montreal (Canada), he worked for Canal+ International in Paris. He was then responsible for the kids and short films department at PREMIERE in Hamburg before becoming Head of Programmes at S-RTL in Cologne. After being Head of Programmes and Deputy Managing Director of NICKELODEON Germany, he was Managing Director at Fox Kids / Jetix in Madrid, London and Munich. Based in London, he is now an international media consultant. Under pseudonyme, he's also a published kids books author as well as an animated film writer.
---
---
Christopher Hales
Artist and researcher specialising in interactive film and video, based in the Smartlab' research centre of the University of East London. Taught many years in art/design with computers, and studied MA Interactive Multimedia at the Royal College of Art, London. His PhD "Rethinking the Interactive Movie" is due for completion in October 2006.
His cdroms were selected at numerous film/multimedia festivals, and his touch-screen installation (showing a dozen or more films) was presented in Seoul, Helsinki, Warsaw, Nagoya, San Francisco and Sydney (amongst other places) and was included in the 2003 "Future Cinema" exhibition curated by the ZKM. He writes frequently about "interactive moving image", has taught over 80 short workshop courses on this subject in numerous institutions in Europe, and is a regular speaker at international events. Recent projects include "Cause and Effect", an experimental interactive cinema performance staged with Finnish colleagues, and a research project in Prague to rediscover the "Kinoautomat" from 1967 - the world's first interactive movie.

www.kinoautomat.org
www.causeandeffect.tk
www.smartlab.uk.com

---
---
Sibylle Kurz
Communication skill trainer, specialised expert in "The Art of Pitching", works internationally since 1994 for film-schools and media-institutions. Furthermore she consults, offers trainings and personal coachings in this field in the media-industry.

With an academic background in media- and communication science, psychology and sociology she specialises in intensive pitching training, project presentation and proposal development. As a member of the pedagogical team of EAVE, an European training programme, and with experience in "decision making" for several other MEDIA Programmes and also in consultancy work, her intensive workshop sessions enable producers and writers to hone and time-tune their projects prior to pitching as well as gain insight into their own professional practice. Her experience in "The Art of Pitching" results from more than 15 years experience in acquisition, distribution and co-production of theatrical-, video- and TV-films in the German-speaking market.

---
---
Raimo Lang

Raimo Lang (YLE, Head of Development) is a writer, developer and dramaturge/producer living in Helsinki. He has a background in film writing/directing, interaction design and social psychology & pedagogy. Currently Lang works as Head of Development and leads a strategic innovation project at Finnish Broadcasting Company (YLE). Prior to that he held a professorship on interactive media and communication at Media Lab, a new media department at University of Arts and Design Helsinki. Raimo Lang is expert practitioner in content & format development on television programming, interactive concepts and user-centered media development processes. He also consults on work culture issues within professional media organizations. Raimo Lang has done research, concept development and training on interactive media, particularly about interactive television and social narration since 1995. His projects include fact and fiction for interactive television and cross-media platforms and design contribution ranges from character generation and interaction design to communication strategies and patent-pending narrative database systems for YLE. A new project involves integration of public journalism to television through new technologies & designs. Raimo Lang has also written and directed thirteen fiction and documentary films for audiences in Finland and abroad. In private life he enjoys documentary photography, woodworking and city exploration activities.
---
---
Peter Olaf Looms

Peter Olaf Looms is Senior consultant in the Strategy & Development Projects Unit of DR-Media which is the commissioning body for radio television, Intenret and mobile media at DR/Danish Broadcasting Corporation.
Peter's work with interactive media goes back to 1985 with the introduction of interactive videodiscs and CD-ROM. At DR the main emphasis of his work is on media and service convergence and the impact that new interactive media have on traditional public service media such as radio and television. This involves monitoring national and European developments in the digital television, broadband, mobile and wireless markets and contributing to DR's policies and strategies for these platforms. Peter teaches on postgraduate programmes at the IT University of Copenhagen and the University of Hong and is an active writer and speaker at conferences on mobile media, Personal Video Recorders and interactive media.
---
---
Mark Stephen Meadows
Mark Stephen Meadows (aka Pighed) is an artist, writer, and engineer with over 15 years experience in interactive media. Founder of HeadCase Humanufacturing he has also spent time at Xerox-PARC, Stanford Research Institute, and The Waag. The author of Pause & Effect, The Art of Interactive Narrative he helped build the third commercial web server (1992), the first open-protocol 3D multi-user environment (1997), and has won awards such as the Ars Electronica Golden Nica and the Cooper-Hewitt National Design Museum's highest honors. Currently writing a book on digital humans, he is based in Los Angeles where he lives on his boat, paints, writes, and plays accordion.
---
---
Mark Ollila
At Nokia, Mark is helping drive the next-generation gaming strategy. He is responsible for technology strategy and business development, industry relations and industry marketing, partnerships and Nokia internal collaboration and technology roadmapping within Multimedia.
Previously, Mark co-founded Telcogames in 2003 and today is a non-executive director with the company. He is a well-known entrepreneur and highly respected authority in media technology, frequently hosting lectures and publishing research on the sector. In addition to founding Telcogames, Mark has been involved in the setting up of a number of companies and research labs in media and mobile entertainment.
He is on the Advisory Board of GDC Mobile, focusing on mobile graphics and multiplayer solutions and is a jury member for the International Mobile Game Awards. During 2002, he became the founding Chairman of Meqon AB, a physics middleware company delivering gaming solutions to the market. Mark brings to bear an unrivalled knowledge of Mobile Entertainment Business and Technology.
---
---
Michael Rueger
Créateur
1989: After a few month studying Design, Michael Rueger (39), left the sweet life as a student, to join BBDO-Advertising as a Junior Producer für Commercials. After years in advertising Business as a Producer, Michael went 1994 into TV- Production, and worked for companies like NDF, Sat1 and Grundy UFA. Since 1999, Michael lives for his passion Interactive Media and Games. He now creates and produces interactive and cross-platform entertainment, for production studios, agencies and international media companies. He focuses on Cross Media/Cross Platform-Content (V-Blogs, Mobile-Applications, etc.), Games, Virtual Worlds and Machinimas. In his monthly column for the asian animation-magazine "Animation Reporter" he writes about Games, Gametheory and Interactivity. Since 2002 he heads the studie course ´Digital Producing / Interactive Media` at the Filmuniversity Baden Wuerttemberg (Filmacademy Ludwigsburg), and lectures at the Hamburg Media School (HMS) and the Bavarian Academy for Advertising & Marketing (BAW, Munich), too. He is also a regular speaker at international festivals and conferences.
Michael lives in Berlin, with his lovely wife, and his adorable baby son Jim.
---
---
Nathan Shedroff
Nathan Shedroff is one of the pioneers in Experience Design, an approach to design that encompasses multiple senses and requirements as well as related fields, Interaction Design and Information Design. Part designer, part entrepreneur, his skills lend themselves to strategic thinking and design for companies who want to exploit the strengths of experience media in order to build better experiences for their customers and themselves in a variety of media, including: print, digital, online, and product design. Growing-up in Silicon Valley has given him an entrepreneurial outlook.
He teaches Industrial Design at California College of the Arts in San Francisco (CCA), speaks often at international colleges, and has written extensively on design and business, including, Experience Design 1, which explores common characteristics in all media that make experiences successful, and maintains a website with resources on Experience Design at www.nathan.com/ed His latest book, Making Meaning, co-written with two members of Cheskin, a Silicon Valley-based strategy consultancy, explores how companies can specifically create products and services to evoke meaning in their audiences and customers. www.makingmeaning.org
He is a founding member of the International Academy or Digital Arts and Sciences (IADAS) and serves as an advisor to the academy as well as a regular judge for the Webby Awards.

---
---
Lee Sheldon
Lee Sheldon has written and designed 17 video games including Murder on the Orient Express, And Then There Were None, The Riddle of Master Lu, Dark Side of the Moon and Wild Wild West: The Steel Assassin. He has worked on massively multiplayer worlds for companies such as Cyan (URU: Ages Beyond Myst) and Disney (Disney's Virtual Kingdom), as well as an experimental multiplayer X-Box project for Microsoft. Lee has written and produced over 200 popular television shows, including Star Trek: The Next Generation and Charlie's Angels. As head writer of the famous daytime serial Edge of Night, he received a nomination for best writing from the Writers Guild of America. His book, Character Development and Storytelling for Games, is being used by game design programs at schools all over the world. Lee has been twice nominated for Edgar awards by the Mystery Writers of America. He is currently a professor at Indiana University teaching screenwriting and game design in addition to working on three more Agatha Christie video games for DreamCatcher Interactive and a storytelling game for the Nintendo Wii.
---
---
Inga von Staden
Inga von Staden migrated from film and television into designing and producing games, internet applications and installations in 1987. She founded the consulting outfit ProjectScope in 1999 to enable institutions and companies in the media industries master the paradigm change from analogue to digital development, production and distribution.
Inga von Staden has been training professionals and running workshops on New Media (i.e. Akademie für neue Medien, Ludwigsburg; CAID – Centre for Applied Industrial Design and
Multimedia, Greece) since 1997. From 2001-03 she designed and directed the continued education program academy of converging media at the dffb (German Film- and Television Academy Berlin). Today she runs the studies program Interactive Media (formerly Digital Producing) at the Filmakademie Baden-Württemberg together with Michael Rueger. In 2004 she also joined the regional media council, Medienboard Berlin-Brandenburg to coordinate their activities for the new media industries.
Inga von Staden has written, published and lectured on a wide range of issues within new media industries (i.e. "The Story That Writes Itself – On Artificial Intelligence", "Games - Where Media and Technology Meet" "Games - Designing an Experience" )

---
---
Teut Weidemann
Teut Weidemann has worked in the computer games industry for over 20 years and is one of the most experienced game specialists in Germany. His recent fields of expertise are MMORPG'S or Massive Online Games. With his current position as CTO he is working on two Massive Online Projects.
CDV AG is one of the oldest game publishers and distributors in Germany. They have offices in Germany and USA. CDV is listed on the German stock exchange market in Frankfurt.

---
---
Ingo Wolf
Ingo Wolf, born on April 6th , 1965, studied process engineering and physics at the TU Munich. After his studies he founded various EDP and music companies. He set up several business areas such as programming, CD production, graphics as well as film and licensing. After combining all companies into the ArtVoice group in 1989 he built up the business areas agency, large format printing and Internet. In 1998 Mr. Wolf began restructuring the ArtVoice business areas, among other things he restructured the classic video business IPTV and founded more ArtVoice companies. The patent assignment for 24/7 Broadcast over IP-based media was an important milestone in the business development of Grid-TV.
The company concentrates on developing the global IPTV network structure of the future.
From 2001 to 2004 Mr. Wolf was the executive manager of the German FLB network operation company ArtVoice Internet-TV GmbH. After outsourcing network operation and specializing in production he is the manager of the German company Grid-TV, which was founded for the purpose of network operating. GRID-TV Germany GmbH is the German establishment of the Swiss parent company Grid-TV AG.
---
---
---
---
---
---