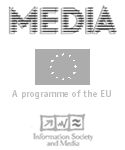 Developing Interactive Narrative Content Seminar 2006: Speakers/Consultants
| Frank Alsema | Frank Boyd | Louise Burrluck | Brunhild Bushoff | Josè Correia | Sibylle Kurz | Stéphane Natkin | Matthias Rauterberg |Greg Roach | Lee Sheldon | Laurence Rilly | Mark Stephen Meadows | Jurgen Wolff |
---
Frank Alsema

Frank Alsema works as a creative producer in his company 4xM: the Mixed Media Match Makers (www.4xM.nl). He is specialized in cross media, games, digital storytelling, mobile and interactive television. He has worked for VPRO TV as director, producer and writer on a wide variety of TV entertainment programs in many different forms for 20 years. In 2000 he joined IJsfontein Interactive Media as partner responsible for producing games, educational software, installations, cross media, and formats for iTV and the Internet. He is now active as independent international creative producer on several cross media projects, some of which will be discussed during his presentation. Several of his projects have won national and international prizes. He is also a tutor for MEDIA funded trainings like X-Melina, Sagasnet, Pygmalion, and EMMDIS. And lectures at international universities and academies on topics such as interactive writing, interaction design, project management, producing & publishing for iTV, and cross media. He is a speaker at national and international conferences on new media, integrating media, museums & events with games, and learning & tools and is a jury member for various international new media awards.
---
---
Frank Boyd
Frank Boyd is a specialist in creativity and innovation especially in the field of new media.

He has been Director of the European Multimedia Labs, an occasional series of development workshops, since 1995. The Labs have supported the creation of new for some of the most talented new media creatives in Europe. Frank is now working with X Media Lab in Sydney to develop a programme in Australia.

He worked for BBC's Learning and Innovation Division for 5 years to January 2004 as Director of Creative Development where he managed a series of workshops for producers in and new media to create new ideas for TV, radio, broadband and interactive television.

Previously he had set up the Arts Technology Centre, the first independent centre in the UK dedicated to creative applications of digital technology. Artec's programmes included production and research as well as vocational training and educational projects.

Frank was a founder member of the BAFTA Interactive Entertainment Awards and organiser of the UK's Digital Media Alliance (DMA). He has been a special adviser on new media to both the European Commission and the Council of Europe. He is currently advising the British Government's Department of Trade and Industry on building the interactive skills base in the UK.
---
---
Louise Burrluck
Enhanced TV Producer, BBC Interactive Drama & Entertainment
Louise joined the BBC's interactive TV department in 1999 and worked on many of the major breakthrough interactive TV projects the BBC developed and broadcast. From the early days of Wimbledon and other major sporting events such as Olympics and World Cup Football through to children's narrative games on CBEEBIES.
Since 2002 Louise has concentrated on enhancing drama and entertainment programmes which have been as diverse as live play along interactive quizzes such as Test the Nation and The National Lottery Come and Have a Go to the family favourite karaoke services for music entertainment formats. Louise also produced the BAFTA award winning Spooks Interactive TV drama which enhanced the primetime BBC ONE series. A model of this is available at bbc.co.uk/spooks.
She has worked on a wide variety of interactive BBC output, bringing together traditional TV and New Media production skills across the BBC and with Independents.
---
---
Brunhild Bushoff
Project manager of the training initiatives sagas writing interactive fiction & sagasnet.
After completing her university studies in journalism, history and German at the Westfaelische Wilhelms Universitaet in Muenster with a Ph.D. in 1984, worked as journalist and author.
Developed interdisciplinary workshop series sagas writing interactive fiction, a MEDIA PLUS Training project (organized by the Munich Film Academy) that furthers the development of narrative content for interactive media and targets knowledge transfer between professionals working in the film and TV industry and those working for interactive media.
Founded in 2002 international network sagasnet, a training initiative aiming at promoting narrative interactive projects and also a MEDIA PLUS Training initiative.
www.sagas.de
www.sagasnet.de
---
---
José Correia
José Correia was born January 25, 1960 in Casablanca, Marocco. He studied economics and film at the Paris University 1. After teaching at various universities he worked in film production and as film director, producing a variety of films and film scripts. Starting in 1992, he worked as editor for French ARTE Television. In 1996 he became head of the ARTE internet department. Besides that, he founded the web magazine "Ciném'arte" und is responsible for various projects in the interactive film genre, a.o. "Compulsion", "Sous-terre" and "In My Room".
---
---
Sibylle Kurz
Communication skill trainer, specialised expert in "The Art of Pitching", works internationally since 1994 for film-schools and media-institutions. Furthermore she consults, offers trainings and personal coachings in this field in the media-industry.

With an academic background in media- and communication science, psychology and sociology she specialises in intensive pitching training, project presentation and proposal development. As a member of the pedagogical team of EAVE, an European training programme, and with experience in "decision making" for several other MEDIA Programmes and also in consultancy work, her intensive workshop sessions enable producers and writers to hone and time-tune their projects prior to pitching as well as gain insight into their own professional practice. Her experience in "The Art of Pitching" results from more than 15 years experience in acquisition, distribution and co-production of theatrical-, video- and TV-films in the German-speaking market.

---
Mark Stephen Meadows
Mark Stephen Meadows (also known as pighed) works at the point where visual art, literature, and computer interactivity coincide. He has spent time at Xerox-PARC, Stanford Research Institute, and has co-founded three companies that relate to artificial intelligence, interactive narrative, or virtual reality. His 3D animation and interactive design has been flown by a list of companies that include Lucasfilm, Sony Pictures, and Microsoft. Since 1987 he has been selling his artwork in galleries and museums throughout the United States and Europe, with his work winning awards that include the Ars Electronica Golden Nica, and The Cooper-Hewitt National Design Museum's highest honors. In 2002 he wrote, Pause & Effect; The Art of Interactive Narrative and he is currently writing a book on digital humans and the role they play in emerging narrative forms. He is also working as creative director on a 3-part video game that includes the creative talents of Frank Gehry, Radiohead, ! and Annie Lennox. He spends his spare time sailing, painting, and playing accordian. His website, "The BOAR.DOM" consists of www.bore.com, www.boar.com, and www.boor.com.
---
Stéphane Natkin
Stéphane Natkin is professor in the department of Computer Science, and a member of the administrative board at the Conservatoire National des Arts et Métiers (CNAM) in Paris France. He is at the head of the Graduate School of Games and Interactive Media (ENJMIN) and the Network System and Multimedia research group at the CEDRIC (the computer science research laboratory of the CNAM http://cedric.cnam.fr). He teaches in particular Computer Games principles and Multimedia Systems, Computer Networks and Security.
---
G. W. Matthias Rauterberg
Matthias Rauterberg is fulltime professor for 'Human Communication Technology' first at IPO, Center for User System Interaction Research, and later at the Department of Industrial Design of the Technical University Eindhoven (TU/e). He is the Dutch representative and vice-chair of the IFIP SG16 on 'Entertainment Computing'. He is also the chair of the IFIP WG16.3 on 'Entertainment Theory'. He holds an appointment as visiting professor at the Kwansei Gakuin University (Japan). He is also a nominated member of the 'Cream of Science' in the Netherlands (the 200 top-level Dutch researchers) and listed among the 10 top-level TU/e scientists. His recent research is in the area of entertainment computing, human-computer interaction, cognitive systems, and design science.
---
---
Laurence Rilly
Laurence Rilly studied translation and interpretation in Strasbourg, France and Graz, Austria. Since 1998 she works in the multimedia department of the European Culture Channel ARTE in Strasbourg. She is responsible for the online platform of ARTE's prestigeous "Metropolis" and "Tracks" programs as well as for the online magazine "Kultur Digital" and various other dossiers in the music, new technologies and internet field.
---
Greg Roach
Greg Roach, M.F.A., is the CEO and Artistic Director of HyperBole Studios, which he founded in 1990.
For over ten years Roach has been recognized as a worldwide leader in the field of interactive film, video and storytelling. His company, HyperBole Studios, explores interactive multimedia as a new artistic and cinematic form.
In 1990, Roach´s first effort was the creation of an online, interactive digizine - years ahead of the internet explosion. During the two years he published HyperBole magazine, he designed, wrote and produced the world's first interactive, multimedia novel. The Madness of Roland, one of the first non-reference CD-ROM's, which was published to great acclaim. The New York Times called the effort "stunningly beautiful." While finishing work on Roland, Greg also wrote, produced and directed a short interactive film called The Wrong Side of Town, a work that the American Film Institute considers to be the "first interactive narrative film."
With these two milestones under his belt, Greg began work on Quantum Gate, the industry's first full-length interactive movie, and the first product to use his newly conceived VirtualCinema technology. Quantum Gate solidified Roach's reputation as both a talented writer/director and a visionary technologist and designer.
His first six years in business culminated when Fox approached him and asked him to helm the much sought after X-Files game. After receiving a ten-page story outline from Fox, Greg created the design (1000+ pages), wrote the shooting script (250 pages), directed a 2-month location shoot and oversaw the entire editing and post process. Upon its release The X-Files Game exceeded all expectations, premiering at number one in nearly every territory where it was released, and going on to sell over a million copies worldwide.
Greg Roach is now focused on the potential of the VirtualCinema technology he invented, with a particular focus on DVD. He has established a program with the USC School of Cinema and Television to teach classes in VirtualCinema. In addition, he is completing a feature film script, and has just been made a research associate at Cambridge University.
He teaches regularly within the frame of the training initiative sagas Writing Interactive Fiction, at USC and at workshops in Seattle, London, Cambridge and LA.
---
---
Lee Sheldon
Lee Sheldon has written and designed 17 video games including And Then There Were None, The Riddle of Master Lu, Dark Side of the Moon and Wild Wild West: The Steel Assassin. He has worked on massively multiplayer worlds for companies such as Cyan (URU: Ages Beyond Myst) and Disney (Disney's Virtual Kingdom), as well as an experimental multiplayer X-Box project for Microsoft. Before Lee wrote and produced over 200 popular television shows, including Star Trek: The Next Generation and Charlie's Angels. As head writer of the famous daytime serial Edge of Night, he received a nomination for best writing from the Writers Guild of America. His book, Character Development and Storytelling for Games, is being used by game design programs at a growing list of schools. Lee has been twice nominated for Edgar awards by the Mystery Writers of America. He is currently working on a second Agatha Christie video game for DreamCatcher Interactive.
---
Jurgen Wolff
Jurgen Wolff has written over 100 TV episodes, as well as TV movies and feature films. For German TV, he co-created the ZDF sitcom, LUKAS, with Dirk Bach, and wrote episodes of Die Camper, Nikola, Alles Atze, and many others. His books include "Successful Sitcom Writing," and "Successful Script Writing." He is also an NLP Practitioner and hypnotherapist and teaches creativity workshops around the world. His website, www.timetowrite.com and his blog, www.timetowrite.blogs.com, contain tips and techniques for Writers.
---
---
---