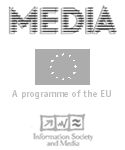 Developing Interactive Narrative Content Seminar 2007:
Selection board
| Brunhild Bushoff | Greg Childs | Anthony Lilley |Raimo Lang |Peter Olaf Looms |Mark Ollila |Lee Sheldon |
---
Brunhild Bushoff
Project manager training initiatives sagas writing interactive fiction & sagasnet.
After completing her university studies in journalism, history and German at the Westfaelische Wilhelms Universitaet in Muenster with a Ph.D. in 1984, worked as journalist and author. Developed interdisciplinary workshop series sagas writing interactive fiction, a training project (organized by the Munich Film Academy) in the frame of the MEDIA PLUS Programme of the European Community that furthers the development of narrative content forinteractive media and targets knowledge transfer between professionals working in the film + TV industry and those working for interactive media.
Founded in 2002 sagasnet, a training initiative aiming at promoting and supporting narrative interactive projects in development and also a MEDIA PLUS Training project.

---
Greg Childs
Greg has worked in Children's media for over 20 years. At the BBC, he directed and produced Play School, and a variety of factual and comedy programmes, including the long-running Record Breakers. In 1998 Greg led a team spearheading the BBC drive into digital, launching the first Childrens' BBC websites and a range of innovative cross-media experiments, including all the programming for young people on the BBC's first digital television channels, BBC CHOICE and BBC KNOWLEDGE. In 2000 he joined the Children's commissioning team to create a popular pre-school service on BBC Choice, and plan the launch of the children's channels CBBC and CBeebies. Greg's creative R&D unit - Future TV investigated children's changing media habits in the light of new technology. It also led CBBC's drive into interactive television, and was the focus for innovation within the department. Greg now runs his own company, Childseye, offering strategic and project-based consultancy on the effective use of integrated and interactive media for the younger audience. He has worked on the launch teams of Teachers' TV and the CITV Channel in the UK, has created interactive propositions for Disney Television Animation and Zenith Entertainment and has worked for the Dept for Education and Skills as a digital communications consultant. Greg is the Executive Producer of the UK's premier children's media practitioners' Conference – Showcomotion and is Head of Studies for the German Akademie fuer Kindermedien.
---
Raimo Lang

Raimo Lang (YLE, Head of Development) is a writer, developer and dramaturge/producer living in Helsinki. He has a background in film writing/directing, interaction design and social psychology & pedagogy. Currently Lang works as Head of Development and leads a strategic innovation project at Finnish Broadcasting Company (YLE). Prior to that he held a professorship on interactive media and communication at Media Lab, a new media department at University of Arts and Design Helsinki. Raimo Lang is expert practitioner in content & format development on television programming, interactive concepts and user-centered media development processes. He also consults on work culture issues within professional media organizations. Raimo Lang has done research, concept development and training on interactive media, particularly about interactive television and social narration since 1995. His projects include fact and fiction for interactive television and cross-media platforms and design contribution ranges from character generation and interaction design to communication strategies and patent-pending narrative database systems for YLE. A new project involves integration of public journalism to television through new technologies & designs. Raimo Lang has also written and directed thirteen fiction and documentary films for audiences in Finland and abroad. In private life he enjoys documentary photography, woodworking and city exploration activities.
---
Anthoney Lilley

Anthony Lilley is Chief Executive of Magic Lantern Productions, an award-winning interactive media production company specialising in content for broadband and multi-platform media.
Anthony is Executive Producer and co-creator of Channel 4's multi-award winning broadband channel, FourDocs, (www.channel4.com/fourdocs) and Consultant Producer with ABC Australia on user-created content. Established in 1996, Magic Lantern's clients include Channel 4, BBC, BT, Google, Tiscali, Telewest, Entertainment Rights plc, C21 Media, Discovery, the UK Film Council, NESTA, OFCOM, the DTI, the DfES, Skillset, PACT, Tate Modern and many others. Anthony is a member of the Content Board of OFCOM and of the board of BECTA (the British Educational Communications Technology Agency). He is also a member of the Advisory Council of the Broadband Stakeholders' Group. Anthony was Vice-Chair of PACT and Chair of its Interactive Media Policy Group from 2000-06. He has also been a Working Group Chairman of the DCMS/DTI Creative Industries IP Forum, a member of the Advisory Boards of NESTA Futurelab and the IPPR Intellectual Property Project and a director of iCommons Ltd. In 2002-3 he was Chair of the UK Digital Content Forum. He has experience of television and corporate video production and previously worked in theatre as a lighting designer, producer and director having taken a degree in law at Magdalen College, Oxford. He advises the DTI on broadband content and innovation, the DfES on the future of media, and has previously advised the DCMS and the Cabinet Office and assisted OFCOM in its reviews of Public Service Broadcasting and Television Production. He has given masterclasses and participated in numerous conferences in the UK and internationally including chairing the UK-China ICT Summit in Beijing in 2004. Anthony has a fortnightly new media column in The Guardian newspaper, is Contributing Editor of FutureMedia Magazine and has written for the Financial Times, Broadcast, Television Magazine and Televisual. He is a Fellow of the Royal Society of the Arts, married with one daughter and lives in Lewes, East Sussex, England.
---
Peter Olaf Looms

Peter Olaf Looms is Senior consultant in the Strategy & Development Projects Unit of DR-Media which is the commissioning body for radio television, Intenret and mobile media at DR/Danish Broadcasting Corporation.
Peter's work with interactive media goes back to 1985 with the introduction of interactive videodiscs and CD-ROM. At DR the main emphasis of his work is on media and service convergence and the impact that new interactive media have on traditional public service media such as radio and television. This involves monitoring national and European developments in the digital television, broadband, mobile and wireless markets and contributing to DR's policies and strategies for these platforms. Peter teaches on postgraduate programmes at the IT University of Copenhagen and the University of Hong and is an active writer and speaker at conferences on mobile media, Personal Video Recorders and interactive media.
---
Mark Ollila
At Nokia, Mark is helping drive the next-generation gaming strategy. He is responsible for technology strategy and business development, industry relations and industry marketing, partnerships and Nokia internal collaboration and technology roadmapping within Multimedia.
Previously, Mark co-founded Telcogames in 2003 and today is a non-executive director with the company. He is a well-known entrepreneur and highly respected authority in media technology, frequently hosting lectures and publishing research on the sector. In addition to founding Telcogames, Mark has been involved in the setting up of a number of companies and research labs in media and mobile entertainment.
He is on the Advisory Board of GDC Mobile, focusing on mobile graphics and multiplayer solutions and is a jury member for the International Mobile Game Awards. During 2002, he became the founding Chairman of Meqon AB, a physics middleware company delivering gaming solutions to the market. Mark brings to bear an unrivalled knowledge of Mobile Entertainment Business and Technology.
---
Lee Sheldon
Lee Sheldon has written and designed 17 video games including Murder on the Orient Express, And Then There Were None, The Riddle of Master Lu, Dark Side of the Moon and Wild Wild West: The Steel Assassin. He has worked on massively multiplayer worlds for companies such as Cyan (URU: Ages Beyond Myst) and Disney (Disney's Virtual Kingdom), as well as an experimental multiplayer X-Box project for Microsoft. Lee has written and produced over 200 popular television shows, including Star Trek: The Next Generation and Charlie's Angels. As head writer of the famous daytime serial Edge of Night, he received a nomination for best writing from the Writers Guild of America. His book, Character Development and Storytelling for Games, is being used by game design programs at schools all over the world. Lee has been twice nominated for Edgar awards by the Mystery Writers of America. He is currently a professor at Indiana University teaching screenwriting and game design in addition to working on three more Agatha Christie video games for DreamCatcher Interactive and a storytelling game for the Nintendo Wii.
---
---