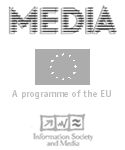 Consultants' Biographies
Developing Interactive Narrative Content Seminar 2004
Ernest Adams | Sebastian Belcher | Margarita Betancor | Frank Boyd | Lars Christiansen | Martin Freeth | Helmut Halfmann | Anke Hoffmann |Craig Lindley | Benjamin Manns | Amanda Oldroyd | Neil Richards | Vincent Scheurer | Susanne Schosser |
---
Ernest Adams
Ernest Adams is a game design consultant and a member of the International Hobo design consortium. He has been in the game industry for 14 years, and was most recently employed as a lead designer at Bullfrog Productions on the Dungeon Keeper series. For several years before that he was the audio/video producer on the Madden NFL Football product line at Electronic Arts. Mr. Adams is the author of two books, Andrew Rollings and Ernest Adams on Game Design (with Andrew Rollings) and Break Into the Game Industry: How to Get a Job Making Video Games. He also writes the popular Designer's Notebook columns for the Gamasutra developers' webzine. His website is at http://www.designersnotebook.com.
---
Sebastian Belcher
Sebastian is a senior associate at Harbottle & Lewis, London. Much of his work involves computer games, internet and new media matters.

He handles a variety of commercial and corporate work concentrated on these industries but also more generally within the media, entertainment and leisure industries including the development, distribution, licensing and other content-based deals. He is also involved in the setting up of corporate and contractual joint ventures, start up and financing and mergers and acquisition work within these fields.

Recent work includes advising TakeTwo Interactive Inc., the NASDAQ quoted computer games publisher on its sale of Pixel Broadband Studios, an Israeli broadband technology company to Gameplay, together with an online distribution arrangement providing Gameplay with online rights to Take Two products.
---
Dr. Margarita Betancor
Born 13.01.67 in Las Palmas.
1992/97 scientific research at Max-Planck Institute for Meteorology
1998/2000 Information Architect and Project Manager for Internet solutions at iXL Germany (former Lava GmbH); Sice 2000 Online Director at FOX KIDS GERMANY, responsible for www.foxkids.de and all online and interactive projects.
---
Frank Boyd
Frank Boyd is a specialist in creativity and innovation especially in the field of new media.

He has been Director of the European Multimedia Labs, an occasional series of development workshops, since 1995. The Labs have supported the creation of new for some of the most talented new media creatives in Europe. Frank is now working with X Media Lab in Sydney to develop a programme in Australia.

He worked for BBC's Learning and Innovation Division for 5 years to January 2004 as Director of Creative Development where he managed a series of workshops for producers in and new media to create new ideas for TV, radio, broadband and interactive television.

Previously he had set up the Arts Technology Centre, the first independent centre in the UK dedicated to creative applications of digital technology. Artec's programmes included production and research as well as vocational training and educational projects.

Frank was a founder member of the BAFTA Interactive Entertainment Awards and organiser of the UK's Digital Media Alliance (DMA). He has been a special adviser on new media to both the European Commission and the Council of Europe. He is currently advising the British Government's Department of Trade and Industry on building the interactive skills base in the UK.
---
Lars Christiansen

1995-2000 Design college in Denmark/Kolding "Designskolen Kolding"
1999 Hogeschool voor de kunsten Utrecht in The Nederlands
2000 - working at tv-animation as Head of interactive design
Worked on:
Interactive TV-show for Noga Israel
Web site for Nelly Nut, Danish TV2 and CBBC
Web site for JenniferJohn & BritneyBob, DR Denmarks Radio
Award winning web site Högaffla Hage, SVT Swedish Television
(http://svt.se/hogafflahage/ )
Interactive TV-show "Twebby" for SVT Swedish Television
(http://svt.se/svt/jsp/Crosslink.jsp?d=5300)
Award winning Interactive window display for Levi's
Interactive TV-show "En ska BoRt" for SVT Swedish television

---
Martin Freeth
Martin has extensive experience of delivering: Television: documentaries, studio shows, film drama , Multimedia on many platforms - and new media research
Web sites, online and broadband strategy
Education, training and learning software
Science communication and hands-on science exhibits
Grant giving in the creative community
Management of projects and of large and small teams

Martin made numerous science shows for the BBC including award-winning Horizon films,Tomorrow's World specials and major series such as The Mind Machine for BBC2. He founded the BBC Multimedia Centre, which developed interactive TV, CD-Roms, new media training and BBC Online, and at that time Martin acquired an international reputation as a multimedia evangelist. He also worked with David Puttnam to help establish BAFTA's successful Interactive Entertainment Awards.
After leaving the BBC, Martin developed and directed Explore at-Bristol and made programmes for Sky and The Discovery Channel. Over four years ago he joined NESTA as Deputy Chief Executive, taking responsibility for the Education programme, IT and NESTA's website. Hedeveloped NESTA Futurelab for NESTA Enterprises over the last three years and was, until recently, its first Chief Executive in Bristol.

---
Anke Hoffmann
Anke Hoffmann studied Cultural Studies (M.A.) Sociology and Politics at Humboldt University Berlin and Goldsmith College London. She realized video documentaries while working for the production company TV Choice in London. In Berlin she co-organized independent art projects for aroma berlin and from 1999 - 2001 she worked as curatorial assistant and festival organizer for the International Media Art Festival transmediale berlin. Since 2001 she is a curatorial assistance and exhibition
organizer at the Exhibition Department of ZKM, Centre for Arts and Media. There she co-organized several extensive theme exhibitions such as 'Ctrl Space' 2001, 'Iconoclash' 2002 and 'Future Cinema' 2003. Further she co-curated and organized the accompanying film and video programmes for the exhibitions and worked as Project Manager at ZKM within the EU Project Scalex, a development project for a multi-media scalable exhibition guidance system.

---
Craig Lindley

Prof. Craig Lindley PhD 1997, MAppSc 1991, has an extensive scientific research background specialising in the areas of knowledge base systems, artificial intelligence, autonomous agents, digital media systems, game design and believable expressive characters. He has a PhD in computing science, and has worked as a technical researcher, a technical R&D project leader and a project manager for many research projects conducted in collaboration with industry partners. Most of his research experience has been conducted while working for the Australian Commonwealth Scientific and Industrial Research Organisation (CSIRO). In recent years he has been involved in research on computer game forms, characterisation, narrative and believable agents in virtual environments, and has developed both 2D and 3D game engines. After recently working as the Research Manager within the Zero-Game Studio, an applied game research studio within the Interactive Institute in Sweden, he is now Professor of the Institution for Engineering, Art and New Media at the University of Gotland in Sweden.
---
Benjamin Manns
From 1995 to 1999 employee of the ORB (among other projekts he worked for "Reläxx"/KIKA). 2000 he joined the commissioning editorial office of the family programme of the SWR ("Fabrixx") , since 2001 responsible for "Sendung mit der Maus" animation programme and the daily TV-show "Yo!Yo!Kids".

---
Amanda Oldroyd
Amanda Oldroyd is a Senior Designer in the Broadband Applications Research Centre, BT Exact. She received a BA (Hons) degree in Design from Edinburgh College of Art in 1993 where she studied animation, and received an MA in Computer Graphics from the National Centre for Computer Animation, Bournemouth University in 1994. Amanda joined BT in 1994 to research the design and implementation of online collaborative applications, specialising in avatar and virtual world design. Her work frequently involves collaborations with external creative and technical teams, including television production companies and broadcasters (Illuminations, Maverick TV, BBC, Channel 4 and Sky) , new media artists and organisations ( Blast Theory, LIFT, Hi8us) and research institutions ( Microsoft Research, Nottingham University, UCL, Birmingham University). Past work includes experiments in 'Inhabited TV', investigating the convergence of broadcast and internet technologies. Currently Amanda is managing the Future of Gaming research project, and developing advanced 3D technologies for the collaborative project 'eDrama'. Her main responsibilities are to investigate convergent platforms and devices for new forms of online, mixed reality entertainment and to deploy public user trials which connect multiple players over fixed and mobile networks. Amanda has presented at international conferences and events, and lectured at UK universities.
---
Neil Richards
Neil Richards started out developing scripts for David Puttnam in the movie industry. He then became a story-exec and producer in TV and started writing TV shows himself. Co-writing Starship Titanic with Douglas Adams in '98 flung him into the world of games and interactive TV. He's been writing games and TV ever since...

Neil mentors for BBC iTV and broadband workshops, for PAL (Media Programme), PILOTS (Media Programme) and PYGMALION (Media Programme/Paris/Berlin Film Schools). He has also consulted for the BBC as a producer in Creative Development, devising and running Creative/Interactive Labs across the BBC. Neil is a BAFTA member and has served on BAFTA interactive juries.

And in case that all sounds way too serious... Neil also wasted the best years of his life: driving trucks, delivering beer, mixing cement, filing forms, working in - a coat-hangar factory, a lawnmower factory, a paper-mill, a bromine-bottling plant, a rabbit-killer factory, an abattoir, a suit-importer, a coal-mine in Turkey, a publishing company and... the final straw before becoming a writer... a university.

---
Vincent Scheurer

Vincent comes from an in-house background and specialises in commercial and corporate work in connection with the digital media and Internet industries. He concentrates on agreements for the development and exploitation of interactive software products, particularly in the entertainment and educational field, and on Internet related agreements.

His recent work includes advising on international distribution and licensing agreements for software games and the acquisition and exploitation of trade mark licences within software products, including product placement agreements. He also advises on the agreements concerning the exploitation of rights over the Internet and other new communications structures as well as Internet and e-commerce service provision, development and maintenance agreements.

Vincent qualified as a barrister in 1994. He worked as an in-house lawyer for a software house before joining Osborne Clarke in 1999 as a non-practising barrister.
---
Susanne Schosser
Susanne Schosser
From 1989-1993 TaurusFilm GmbH& Co. KG, co-ordinating the sales and presswork in the TV series section. 1994 she transferred to CLT Germany and was one of the co-founders of the TV station Super RTL and worked as head of the acquisitions department and as the Editor in Chief. Since 1996 she is the programming director of Super RTL.

---