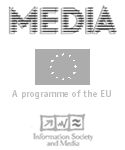 Developing Interactive Narrative Content Seminar 2003: Consultants
Matt Costello | Kirk Ewing | Martin Freeth | Christian Graupner | Stephan Kolloff | Michael Lew | Craig Lindley | Camilla Lyngbo Hjort | Christian Routh | Jochen Schmidt | Karin Wehn | Miriam Kunz | Richard White |
---
Matt Costello
Matt Costello's best-selling and award-wining work has always strived to mesh game play, technology and story. He is the writer and creator of groundbreaking projects for TV, Online, novels, nonfiction books, PC and console games in both U.S. and U.K.
Matt Costello wrote the gothic horror script for the best-selling and award-winning The 7th Guest, a Virgin CD-ROM. A game guide and a novel based on The 7th Guest have been released, both immediate best-sellers. He also scripted The 11th Hour, the sequel to The 7th Guest. The 11th Hour won major awards from trade publications, including CD-ROM Today's Critic's Choice Award.
Costello adapted A Cartoon History of the Universe for CD-ROM, 'Best of the Year' by MacWorld Magazine and a New Media Invision Gold medal winner, which said, "This is absolutely one of the best CD-ROM's in the Universe.". Costello has been an interactive consultant for many clients, including James Cameron's Titanic, the BBC and.Xulu Entertainment. Barbie's Riding Club, designed and written by Costello, was the #1 entertainment CD-ROM in the US for December/January 1999.
Matthew Costello is a member of the WGAE and consults widely for clients ranging from James Cameron's Digital Domain (for Titanic), the interactive divisions of the BBC and Channel 4 (UK), and media and game companies around the world.
Other recent major multimedia projects include:
Aladdin for Disney Interactive
Hercules, for Disney Interactive
The Dark Half, for ORION/MGM.
Derelict, an on-line game for The Sci-Fi Channel
Fatal Illusion The Clue Chronicles for Hasbro
Clifford's Adventure for Scholastic
Cyberchase Web Adventures for PBS.
In 2003:
Doom 3 for ID Software, Texas
Starsky Hutch for Empire/Minds-Eye, UK
The Italian Job (Dialogue) - Eidos
Cyberchase CD Games, for PBS.
Bad Boys II for Empire/Blitz
In 2004:
Major Project -- for Eidos/Lost Boys Games.
The Thing 2 Universal Interactive.
Costello's recent novel was published in 2002, Unidentified, for Penguin-Putnam. His earlier novel, Beneath Still Waters will be filmed early 2004.
He's also the author of The Greatest Games of All Time (John Wiley & Sons). A former Contributing Editor at games Magazine, Costello has appeared as The Game Guy on WNYC in New York (shows archived at www.nykids.org). He is also the designer of many role-playing adventures and boardgames, featuring Dungeons and Dragons, Call of Cthulhu, Batman, Lone Wolf Cub, and many others.
---
Kirk Ewing
2001 - Present
ICM Interactive - Managing Director
ICMI is the European games division of ICM, the international film talent agency. Core business is the representation of talent and intellectual property in both the games and film business.
Clients include: Paul WS Anderson (Director/Writer - Resident Evil, Mortal Kombat, Event Horizon, Alien Vs. Predator), DNA Films (Director - Danny Boyle - Trainspotting, 28 Days Later), (Writer - Alex Garland - The Beach, 28 Days later), Rockstar Games (Grand Theft Auto), AP Watt (Various writers), Amuze AB (Headhunter 1& 2 - SEGA), Ministry of Sound (Music Brand)
1995 - 2001
VIS Entertainment - Founder/VP Creative
VIS Entertainment is a videogame development company responsible for a series of successful games across mulitple formats including State of Emergency - U.S. No. 1 game (1m + units) www.visentertainment.com
1989 - 1995
EVTV - Partner/MD
EVTV was set up to provide fully equipped film and television crews for broadcasters and TV production companies. Over the period the company developed its own production division and completed several successful programs in both Drama and Documentary for UK broadcasters.
FURTHER INFORMATION
TIGA Member
Founder committee member - Edinburgh International Games Festival
TV commentator - Gamesmaster Channel 4 -www.gamesmastertv.co.uk


---
Martin Freeth
Martin has extensive experience of delivering:
Television: documentaries, studio shows, film drama
Multimedia on many platforms - and new media research
Web sites, online and broadband strategy
Education, training and learning software
Science communication and hands-on science exhibits
Grant giving in the creative community
Management of projects and of large and small teams

Martin made numerous science shows for the BBC including award-winning Horizon films,Tomorrow's World specials and major series such as The Mind Machine for BBC2. He founded the BBC Multimedia Centre, which developed interactive TV, CD-Roms, new media training and BBC Online, and at that time Martin acquired an international reputation as a multimedia evangelist. He also worked with David Puttnam to help establish BAFTA's successful Interactive Entertainment Awards.
After leaving the BBC, Martin developed and directed Explore at-Bristol and made programmes for Sky and The Discovery Channel. Over four years ago he joined NESTA as Deputy Chief Executive, taking responsibility for the Education programme, IT and NESTA's website. Hedeveloped NESTA Futurelab for NESTA Enterprises over the last three years and was, until recently, its first Chief Executive in Bristol.
---
Christian Graupner
born 1957
studied grafic design and worked as visual artist.
since 1985 experimental electronic music, sounddesign for TV and films,
composition and production of movie soundtracks:
(1990) Deutschfieber, (1998) Die Totale Therapie, (2000) Kafka Fragmente,
(1999) Radio feature: Absturz'
music releases, productions, co-productions, remixes
i.e. VOOV, Cosmic Baby, Paul van Dyk, FM Einheit, Rainbirds, Masa (Tokyo),
foundation member and name inventor of international media artist group CLUB automatique
since 1997 work on digital video, conception and realisation of interactive media systems and projects.
participations at media art festivals
(1997)Transmediale Berlin, (1998)Ostranenie Dessau, (2002)Biennale Munich, (2002)CynetArt, Dresden (2000) foundation of HUMATIC GmbH together with Nils Peters, software artist & programmer. (2001) participation in the international media art congress E-thopia, Berlin. (2002) visiting lecturer at MERZ Akademie, media-art- high-school, Stuttgart. participation in the
international media art forum Realtime & Presence , Nuernberg/ Dresden.


---
Stephan Kolloff

Head of production, Tivola GmbH, D

With a pedagogical background and after having studied computer sciences (Humboldt University, Berlin), Stephan Kolloff worked a.o. as a teacher in maths and physics, and as advisor on science/information technology/ teaching software at the Federal State of Brandenburg's Media Pedagogical Centre in Potsdam before joining 1995 Tivola as project manager for multimedia production. Since 2000 he is head of production with Tivola reknown for high quality software for children .

---
Michael Lew
Michael Lew is a media artist / engineer from Geneva, Switzerland and also has the Uruguayan citizenship. His background is in electrical engineering, artificial intelligence, acting and filmmaking.
He is currently a Research Fellow in the Story Networks group at the Media Lab Europe in Dublin, where he's investigating what happens to the film form when the medium becomes computational. He works on real-time editing engines, expressive interfaces for video improvisation and multi-track video samplers for theatrical performance.

Michael obtained his M.Sc. in Electrical Engineering from the Swiss Federal Institute of Technology (EPFL). His master's thesis was carried out with the AI Lab at the Motorola Labs in Paris, France, for which he was awarded the Logitech 2000 prize. He also spent a year in Haifa, Israel, at the Technion Institute of Technology, where he developed architectures for MPEG-2 video streaming.

Before directing his first 16mm short films in film school in New York, Michael founded in Lausanne the hilarious "Avracavabrac" performance company, specialized in hoaxes for corporate events. He also started the Dublin Café philosophique, which regularly brings together people from different backgrounds to discuss philosophical topics. Since 2002, he has been doing experimental video performances in clubs and festivals across Europe and the US.

---
Craig Lindley
Dr. Craig Lindley is a senior researcher with the Zero Game Studio of the Interactive Institute in Sweden. His research focuses on new dramatic computer game forms, characterisation, narrative and believable agents in virtual environments.
He has an extensive research background in the areas of knowledge base systems, artificial intelligence, autonomous agents and interactive 3D systems. He has previously worked for the Commonwealth Scientific and Industrial Research Organisation (CSIRO) in Australia, and for Starlab NV/SA in Belgium.
---
Camilla Lyngbo Hjort
CEO and Head of creative management, Pinkfloor
Masters degree at University of Copenhagen – Modern culture and communication.

1998-1999 In charge of "Emotion and Immersion in Interactive Media" - a series of international design workshops at Designskolen Kolding's multimedia department aiming at developing new forms of interactive language.
1999-2000 Project manager at "Betalab". A laboratory for new concepts in digital media, at DR, danish national TV. Projects included conceptual work and production management for prizewinning "Bagsædestrisser", an interactive radio drama produced for Internet and national radio.
2000-2003 Co-founder of and Creative director in Pinkfloor. In charge of research, conceptual development and production management on The Bitch Game, The Partymoto Game, a series of mobile games etc.

2003 Head of creative development of the cross media PowerBabe brand including The PowerBabe Game for Internet and SMS as well as a number of products in development: The PowerBabe Game for Console, The PowerBabe Book, The PowerBabe Fashion Collection, The PowerBabe TV show etc.
---
Christian Routh
Christian started in the film industry in 1978 when he became Film Festivals officer at the British Council. After that he joined Thorn EMI Screen Entertainment, where he worked as a film buyer. In 1986 he moved to Cannon UK as a script executive, before joining the independent sector with Red Rooster Films.
At the end of 1989 he joined the MEDIA Programme's European Script Fund, and served as Head of Selection for 8 years, by which time the organization had become known as EMDA (European Media Development Agency). During his tenure there, over 1500 European projects and companies were selected for development support, including films like Orlando, Toto the Hero, Rob Roy, Naked, Farinelli, The Cement Garden, Breaking the Waves and Elizabeth.
Since moving to Spain in 2000, he has been working as a film consultant, screenwriter and tutor, with clients including; Medea, Binger Film Institute, Luxembourg Film fund, Sitges Film Festival, La Productora, and Filmax. In 2003 he was appointed Head of Studies of PILOTS, a MEDIA training programme.
---
Frédéric Durieu

Artist-programmer, Lecielestbleu, F
www.lecielestbleu.com
Frédéric studied civil engineering (polytechnique) at Université de Louvain-La-Neuve and concluded his studies with a thesis on the production of a plant-growth simulation program.
In 1993, he founded together with Yves Bernard the multimedia production company Magic Media, Bruxelles.
1998, he settled in Paris with New York multimedia specialist Kristine Malden - and co-authored with Murielle Lefèvre and Jean-Jacques Birgé, the award-winning Alphabet CD-ROM.
In 2000, he founded LeCielEstBleu, the associated experimental website being an interactive art gallery.
With Jean-Jacques Birgé responsible for the music composition, Frédéric started the animated puppet series ZOO in 2001 – growing to be a huge success right from the start. The accompanying PuppetTool enabling the users to create animations on their own received several awards.

---
Jochen Schmidt

Realmix Berlin
www.realmix.de
- producer for virtual reality projects in art, science and the entertainment industry
- special focus on theme worlds, event attractions, sfx for film/tv and intermedia/convergence
- developed many pilots for innovative applications using immersive VR, virtual studio, CAVE, virtual idols
- concept design, production management, marketing, localisation for mixed media productions
research works for DVD and media convergence
event producer for World Expo
international producer in EU, US and Asia
project management for advertising events
set design for interactive tv shows
science artist at GMD/Fraunhofer Gesellschaft
masters in literature / diploma in media design and computer graphics
---
Miriam Kunz

Studies & Work Experience Studies 1994-1999 pedagogy, education, mathematics, sports, educational psychology, pedagogy & media
School of Education, University of Heidelberg/ Germany
Exam: "Children and Television"
Study Exchange: University of Montpellier France, Sports and Education, including teaching at a primary school

1999-2000
postgraduate studies:
Special Education, pedagogy & media
School of Education, Heidelberg/ Germany
Work Experience 1998-1999 Editor Assistant
German Public TV Channel, ZDF Kinder & Jugend, Mainz, Germany

1999-2001 Editor & Development Internet & Online - www.tivi.de
ZDF German Childrenıs-Newscast ³LOGO², Mainz

2001-2003
Editor, Developer, Producer, Author
KI.KA - Der Kinderkanal von ARD/ZDF
public German Broadcasting Corporations TV-Channel for Children
- Interactive & virtual games - Authoring & Production
- Producer, including research, script, postproduction
- On-air editor of a daily live program ³Kikania²
- Development of new game-shows for children

---
Richard White

Trainer/Curriculum Consultant/Speaker Richard is active in the development of training strategies for Interactive Media. As well as being an advisor to both UK National and European bodies, he has created and participated in workshops, seminars, and training programs for both universities and independent training courses in Britain, Europe and the United States. These include the European programs sagas, Sources II, Arista, EAVE. The Channel 4 Future TV Workshop, PAL Multimedia Labs and New Media Knowledge in the UK. The Focal Interactive Media Workout Basle, CAID Athens. ITVF New York. Universities include Lulea and Gotland in Sweden and La Femis in France.
He has been a speaker and panellist at numerous events including, The Big Picture - Dublin, Sharing Stories - Edinburgh/London, Imagina - Paris, Edinburgh Film Festival, Banff TV Festival - Canada, MCCI Kuala Lumpur, IEMMYs - New York, Digital Independents - San Francisco.

Career History
May '01 -July '03
University of Gotland, Visby/Sweden
Mentor for newly formed Art and New Media Unit, developing curriculum and lecturing in Interactive Product Design.
Feb '00 – Currently
INITIAL CUT, Paris/London
Co-founder and Board Member
Independent Interactive Media Development House.
* IP Rights Creation/Acquisition/Enhancement.
* Interactive Media Project Development.
* Partners Worldwide.
Jul '98 – Jan '00
EUROPEAN COMMISSION DG10 (Culture & Education), London/Bruxelles
Head of Development (New Media)
MEDIA II Fund, offering Europe wide financing for Interactive Media Projects.
March '95 – Present
SQUISHBAND, London
Founder and Executive Creative Strategist
Interactive Media Development Consultancy.
Prior to this u.o.:
EPIC MEDIA GROUP plc., Executive Producer
4i FILMS ltd , Development ExecutiveLOMBARD PRODUCTIONS LTD , Producer / Director
TAKE TWO FILM AND VIDEO , Producer / Director
The Company, Theatre Producer/Director
Performances at The Roundhouse, Rock Garden, Theatro Technis, Avignion, Edinburgh, Paris and Amsterdam.

---
Karin Wehn
http://www.karin-wehn.de

Teaching and Research Positions
1999 to date
University of Leipzig, Media & Communication Studies. Research associate in the department of Media Studies and Media Culture.
2001-2003
University of Fine Arts, Berlin, Germany. Guest professor in Social and Economic Communication (Gesellschafts- und Wirtschaftskommunikation).
1995-1999
University of Halle-Wittenberg, Germany. Researcher in a project on German crime fiction on television, funded by the German research council (Deutsche Forschungsgemeinschaft).

Journalistic Experience
2003
Contributions for the short film magazine ãKurzschluss" for the television station Arte.
1998 to date
Articles for various media journals (grimme, Funk-Korrespondenz, Fernseh-Informationen)

Education
2003
Post-doc thesis: Animation on the internet. (in progress)
2000
Ph.D in Media & Communication Studies at the University of Halle-Wittenberg. Title of thesis: Crimetime in Flux. Production, Distribution and Genre Development of TV Crime Fiction in West Germany and East Germany in the Dual System.
1995
Master Degree in English Linguistics, English Literature, Applied Linguistics, New German Literature. Title of thesis: Dubbing of American Tv series for the German market
1999
Scholarship from the Deutsche Rundfunkarchiv, Frankfurt
1987
General Qualification for University Entrance (Abitur) at Stift-Keppel-Gymnasium, Hilchenbach

Publications o.a.
Wehn, Karin: "Crime-Time" im Wandel: Produktion, Vermittlung und Genreentwicklung des west- und ostdeutschen Fernsehkrimis im Dualen Rundfunksystem. Bonn: ARCult 2002.
Brueck, Ingrid; Andrea Guder, Reinhold Viehoff, Karin Wehn: Der deutsche Fernsehkrimi. Eine Programm- und Produktionsgeschichte von den Anf&ngen bis heute. Stuttgart: Metzler 2003 (forthcoming).

Webprojects
Animation on the internet. http://www.animation-le.de.vu

Memberships
DGPuk. Deutsche Gesellschaft für Publizistik und Kommunikationswissenschaft. http://www.dgpuk.de/
SAS. Society for Animation Studies. http://www.awn.com/sas/
Studienkreis Rundfunk und Geschichte. http://www.uni-leipzig.de/~skrug/